What is tooth whitening?
Tooth whitening is a way of lightening the shade of teeth without removing any of the tooth's surface. It is a popular dental procedure and can improve the way your teeth look. While it might not cause a complete change in colour, it will lighten the existing colour.
The procedure must be repeated many times before the results are visible.
How does it work?
Tooth whitening can either be performed in your dentist's clinic, or at home. There are two types of whitening:
Vital whitening
Non-vital whitening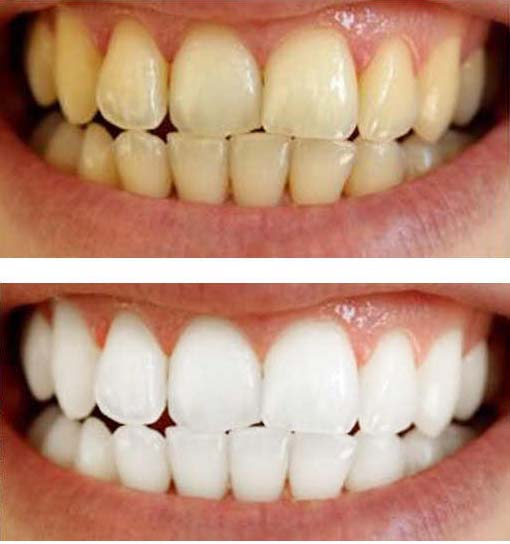 Vital whitening
Vital tooth whitening often uses a gel that contains some form of hydrogen peroxide. Hydrogen peroxide is commonly known for its cleaning and whitening abilities. This gel is applied on the tooth's surface.
While you have the option of whitening your teeth at home, performing it at a clinic has some advantages. The dentist would be able to use a more powerful gel. They may also be able to use special lights that activate the gel and allow the bleaching to occur faster.
In-office whitening takes between 1 – 3 appointments, each session between 30 – 90 minutes. The period depends on:
the whitening method used
the severity of the stains
how white you would like your teeth to be
Your dentist will start the whitening by applying a protective substance over the gums. Then, they apply the whitening agent on the teeth. If the agent needs activation by special lights, they will shine the light over your teeth.
In some cases, like highly discoloured teeth, your dentist might suggest home treatment. This might take a few days or weeks. Your dentist will make customized mouthpieces to fit your mouth. You will fill each mouthpiece with a whitening gel supplied by your dentist. You will be required to wear the mouthpiece for several hours everyday. It could take anywhere between 1 week or 4 weeks, perhaps even longer.
Whitening products are also sold over the counter. They are much weaker than prescribed agents; they take a longer time to show results. They are either applied as a gel in a mouthpiece or as a strip that sticks over your teeth. The mouthpieces provided are often loose, unlike those customized by your dentist.
Non-Vital Whitening
This form of whitening is used on teeth that have had a root canal treatment. This is because the stain is not from the surface of the tooth, but from inside the tooth. Your dentist will place the agent inside the tooth and cover it with a temporary filling. The agent will remain inside the tooth for a number of days. The length of this process depends on how soon your teeth reach the desired shade.
After the procedure
The whitening process is not permanent. If you continue to take staining foods and drinks, or smoke, your teeth will lose their lighter shade. If you avoid these items, the whitening will last longer. You will need to re-whiten them again after 6-12 months.
Some people might feel some sensitivity or gum irritation afterwards. If your gums begin to turn white or are sore, contact your dentist.
Risks
Pregnant women should avoid whitening their teeth during the pregnancy.