Oh, the invincibility of youth.
When we are in our twenties, we feel as if we will never have a wrinkle, or lose the spring in our step.
As we grow older, we discover that what happened to those who went before us, can and in some cases will happen to us.
Our teeth like the rest of our bodies, undergo aging and this affects our appearance sometimes in marked ways.
As we enter our middle age our teeth may appear to get longer and go darker in color, I covered this on my previous article" Longer in tooth and darker in shade."
In other people, the teeth don't become longer, they get shorter.
The permanent teeth have been in use for nearly three decades by the time we hit 36 years of age. They have undergone wear and tear.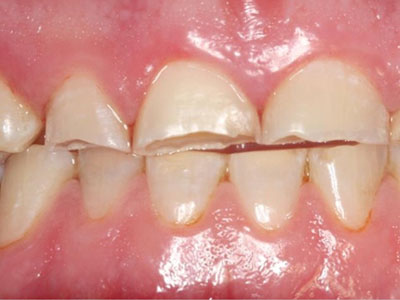 In cases where the person grinds their teeth, has irregular teeth, edge to edge bite, or has anatomically weak enamel, the teeth become shorter.
This causes the lower facial height from the cheekbones to the chin to reduce. The face becomes broader and the chin more depressed in appearance.
In addition, this shortened visage causes the line from the corner of the Nose to the corner of the lips becomes more pronounced.
If we have lost the back teeth because of decay or gum disease, the lower jaw appears to disappear into the upper in what is termed a collapsed arch.
This gives the person an "old crone" appearance.
It's important to make the decision not to allow your teeth to degrade. Where they are getting shorter, get crowns done. They will restore your appearance and function.
Your face will retain its height and tone when your teeth are at their original size.
If your teeth are getting yellow the easiest thing to do without some adding a fortune is to Bleach your teeth at a dentist's office. Professional bleaching has long term stability and almost no side effects.
Home bleaching agents are unreliable and some are not safe.
There are only two things that will show your age:
Your skin and your teeth. Take care of your teeth.

As Senior Partner and Owner of this exclusive private practice, my responsibilities involve clinical care of patients, maintenance of high clinical standards, visionary expansion of the practice modes of therapy, and administrative oversight of the considerable technical and insurance requirements.