DOES PROFESSIONAL CLEANING WEAKEN THE TEETH?
"My teeth became very sensitive after my dentist cleaned my teeth." She said.
Her husband agreed, nodding vigorously." In fact, Doc, my own teeth were very strong until they were cleaned by the dentist. Then they became very loose, shaking in the gum."
We have heard this many times in practice.
Patients who express this observation, often say that they have received stories from their friends and relatives of people who lost their teeth after having them professionally cleaned by a dentist.
Where does the truth lie?
What does a dentist do when they "clean your teeth"?
The dentist is interested in getting your mouth to be as clean as possible so that your gums and teeth are healthy. We remove plaque [soft debris], and tartar [hard calcified debris] using either manual or ultrasonic scalers.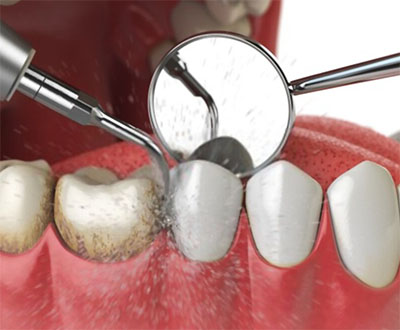 The process is not often painful, but can be sensitive, especially where the gum has moved away and exposed the root surfaces of the teeth.
Once the tartar is removed, these root surfaces can be sensitive and patients need to be informed about this. Removing tartar often results in regrowth of the gum to cover part of the exposed sensitive roots.
In many cases however, the exposed roots have to be surgically covered with a special minor surgical procedure on the surrounding gums.
There are cases, where the patient had such bad oral hygiene and such advanced gum disease, that the tartar was literally holding the teeth together! When the dentist has removed this massive tartar coverage, the teeth then show their weak state; they are loose because of bone loss.
We will then carry out splinting, with gum and bone augmenting surgery, or offer extraction and replacement of the affected teeth with implants or bridge work.

As Senior Partner and Owner of this exclusive private practice, my responsibilities involve clinical care of patients, maintenance of high clinical standards, visionary expansion of the practice modes of therapy, and administrative oversight of the considerable technical and insurance requirements.