WHAT IS THE BEEF WITH METALLIC FILLINGS?
For more than 150 years, dentists all over the world used Dental amalgam as a filling material.
As the name implies, this material is a combination of metal alloys, silver tin and copper mixed in liquid (elemental) mercury.
The setting reaction between mercury and these metals is called an amalgamation reaction.
Wikipedia defines Dental amalgam thus:
"50% of dental amalgam is elemental mercury by weight."
Therein lies the problem.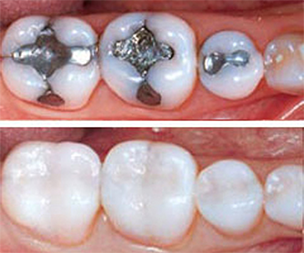 While minuscule amounts of mercury are ingested as the patient chews on the set filling; there is at present no scientific evidence that Mercury in amalgam fillings results in high mercury within the blood.

As Senior Partner and Owner of this exclusive private practice, my responsibilities involve clinical care of patients, maintenance of high clinical standards, visionary expansion of the practice modes of therapy, and administrative oversight of the considerable technical and insurance requirements.