She walked into the surgery looking haggard. Her body language screamed lack of sleep. I asked her how she was doing and she said" Doc, I am tired."
She had general sensitivity and she could remember that she felt it most when she held a mouthful of water when swirling and swishing in her morning routine.
I looked in her mouth and saw all the signs.. wafer thin depressions like wedges along the inner side of her teeth facing her throat.
" Do you have acidity?" She looked at me blankly.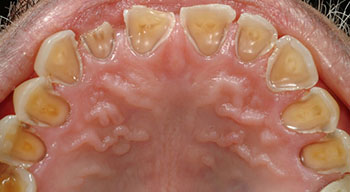 Ten minutes and a detailed medical and dental history taking later, we had it. She had GERD.
Gastro-esophageal reflux disease is a disorder of the sphincter of the stomach. The sphincter relaxes at the wrong time and sends highly acidic stomach fluids back up the esophagus to the throat and mouth.
In many cases this happens when the person is asleep.
The result is that the teeth enamel is gradually eaten away on the tongue side of the mouth. Result: Sensitivity, sensitivity and more sensitivity. Burning mouth. Lots of burping. Heartburn.
And guess what? She was grinding her teeth at night as well… one of the effects of GERD.
The tops of her teeth were worn down and the dentine was exposed so she found breathing cold air difficult.
Her teeth were shorter too, because she was grinding them down.
What did we do?
We put her on a night guard to slow down the effects of acid on her teeth. We desensitized her teeth and placed fluoride varnish on her teeth. We started her on S-Rapid to Control the sensitivity. She had to have a soft tooth brush to avoid wearing down precious tooth structure.
We sent her off to her gastro-enterologist for tests and treatment of GERD.
And nine months later we placed zirconia crowns over twelve of the most affected teeth. She still wears her night guard to stop clenching and grinding.
She smiled when I asked her how she feels about her mouth today. She said "Doc, I discovered I had a serious illness by visiting my dentist!" As she left the surgery she turned and mouthed "Thank You."

As Senior Partner and Owner of this exclusive private practice, my responsibilities involve clinical care of patients, maintenance of high clinical standards, visionary expansion of the practice modes of therapy, and administrative oversight of the considerable technical and insurance requirements.