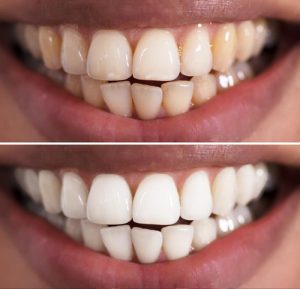 Exploring Different Options for a Brighter Smile
At Gentle Dental Care Clinic, we understand the desire for a bright and radiant smile. Many patients come to us seeking advice on teeth whitening options to enhance the appearance of their teeth. While there are numerous over-the-counter whitening products available, it's essential to consult with a dental professional to ensure the safest and most effective approach to teeth whitening.
During a consultation, we would begin by examining the patient's oral health and assessing the underlying causes of tooth discoloration. Teeth can become stained or discolored due to various factors such as genetics, aging, consumption of certain foods and beverages, smoking, and inadequate oral hygiene. Understanding the root cause of discoloration is crucial in determining the appropriate treatment plan.
Based on the patient's dental health and personal goals, Dr. Jane then discusses the available teeth whitening options. Here are a few commonly recommended methods:
In-Office Teeth Whitening: This professional treatment involves the use of stronger whitening agents that can provide significant results in a shorter time. During an in-office whitening session, a protective barrier is applied to the gums, and a concentrated whitening gel is applied to the teeth. A special light or laser may be used to enhance the whitening effect. This procedure is closely monitored by the dentist to ensure safety and achieve the desired results.
At-Home Whitening Kits: Customized whitening kits prescribed by a dentist provide a safe and effective option for whitening teeth at home. These kits include custom-made trays that fit comfortably over the teeth. The patient applies a prescribed amount of whitening gel to the trays and wears them for a specified period, usually a few hours each day or overnight, as directed by the dentist. At-home kits may take longer to achieve desired results compared to in-office treatments but are convenient and less expensive.
Whitening Toothpaste and Strips: Over-the-counter whitening toothpaste and strips are easily accessible and can provide some improvement in tooth color. However, they often contain lower concentrations of whitening agents, resulting in more gradual and subtle results. It's important to note that these products may not be suitable for everyone, and they should be used according to the manufacturer's instructions.
It's worth noting that the effectiveness of teeth whitening can vary depending on factors such as the severity of the discoloration, the type of staining, and individual variations in tooth color. Additionally, teeth whitening treatments may not be suitable for everyone, especially those with sensitive teeth or certain dental conditions. It's always best to consult with us before undergoing any teeth whitening procedure to determine the most appropriate option for you.
Furthermore, it's important to maintain good oral hygiene practices, such as regular brushing, flossing, and dental check-ups, to keep your teeth healthy and help prevent new stains from forming. Additionally, avoiding or minimizing consumption of stain-causing foods and beverages like coffee, tea, red wine, and tobacco can help maintain the results of teeth whitening treatments.