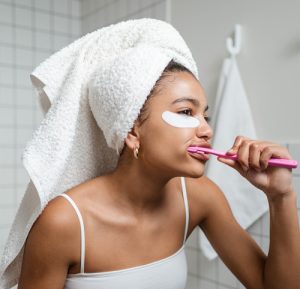 As a dentist in Gentle Dental Care Clinic, Dr. Jane is constantly amazed by the intricate connections between oral health and overall well-being. The mouth is not just a separate entity within the body; it is an integral part of our overall health. Numerous studies have highlighted the profound impact that oral health can have on our general well-being, reinforcing the importance of maintaining good oral hygiene.
Here are some key connections between oral health and overall well-being that she talks about:
Systemic Health Impact: Poor oral health has been associated with various systemic health conditions. Research has shown links between gum disease and several serious health issues, including cardiovascular disease, diabetes, respiratory infections, and adverse pregnancy outcomes. Inflammation and infection in the mouth can potentially spread to other parts of the body, contributing to these systemic health problems.
Chronic Pain and Discomfort: Oral health problems such as tooth decay, gum disease, and oral infections can cause chronic pain and discomfort. This can affect your ability to eat, speak, and sleep properly, leading to a decrease in overall well-being and quality of life. Chronic pain has also been linked to mental health issues such as depression and anxiety.
Nutritional Impact: Oral health problems can affect your ability to eat a healthy diet. Painful teeth or gum conditions may make it difficult to chew certain foods, leading to a limited diet that lacks essential nutrients. Poor nutrition can negatively impact your overall health and well-being, potentially leading to systemic health problems.
Self-Esteem and Social Interaction: Oral health plays a crucial role in self-esteem and social interactions. Dental problems such as missing teeth, bad breath, or discolored teeth can significantly impact your confidence and self-image. This can lead to social anxiety, isolation, and a decreased quality of life.
Sleep Disruptions: Oral health issues like sleep apnea and teeth grinding (bruxism) can disrupt sleep patterns and result in poor sleep quality. Inadequate sleep can lead to daytime fatigue, decreased cognitive function, and reduced overall well-being.
Psychological Well-being: The connection between oral health and psychological well-being is bidirectional. Poor oral health can contribute to mental health issues such as stress, depression, and anxiety. Conversely, mental health conditions can affect oral health due to neglect of dental care or behaviors like teeth grinding as a result of stress.
To maintain good oral health and promote overall well-being, it is essential to practice regular oral hygiene habits, including brushing your teeth twice a day, flossing daily, and visiting Gentle Dental Care Clinic regularly. Additionally, adopting a healthy lifestyle, including a balanced diet, regular exercise, stress management, and avoiding tobacco and excessive alcohol consumption, can contribute to both oral and overall health.